On July 26, the Committee on Foreign Investment in the United States (CFIUS), an interagency body that reviews certain transactions involving foreign investment in the United States to determine the effect on national security, released its annual report to Congress for 2020. CFIUS does not disclose much information on the specific transactions it reviews, but its annual report does offer some aggregate data that indicate broad trends in these investment transactions. The data related to China from the annual report is summarized below, with comparisons to other countries for perspective.
For 2020, there were 126 declarations of covered transactions. The following table shows the figures for declarations filed in 2018, 2019, and 2020 by selected acquirer home countries and for all countries/economies in total:

Looking beyond declarations, the figures for notices of covered transactions from these countries during the same period is shown in the table below:

As indicated in the table, there were 187 notices of transactions in 2020 for which CFIUS conducted a review. In 2020, China ranked second in filing notices, trailing Japan. Over the three-year period from 2018-2020, China accounted for around 15 percent of all notices, the largest percentage of all filed notices.
In terms of the sectors covered for transactions involving China, the following table breaks down China's 97 notices between 2018 and 2020:

Lastly, acquisitions of U.S. "critical technology companies" reviewed by CFIUS in 2020 are broken down by country in the following table: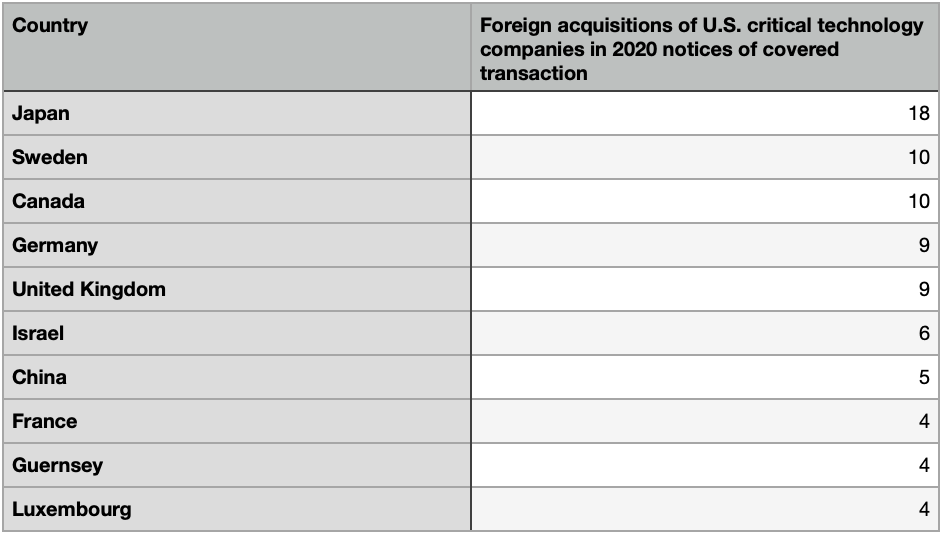 In 2020, China accounted for 4 percent of the total of 122 acquisitions of "critical technology companies."