The Brazilian government is reportedly anxious about renewing its beef trade with China after a suspension of Brazilian exports due to cases of mad cow disease. It seems as though China is taking longer than expected to resolve the issue with its Brazilian counterparts. Brazil is a major source of beef imports for China, and the pending issue could have a significant impact on both the Brazilian and Chinese markets.
China's customs agency noted in its list (link in Chinese) of meat exporting nations and regions that Brazil had voluntarily suspended its beef exports on September 4 due to the discovery of two cases of "atypical" mad cow disease in its factories, pursuant to a protocol signed by the two nations in 2015.
The protocol, titled "Protocol between the General Administration of Quality Supervision, Inspection and Quarantine of the People's Republic of China and the Ministry of Agriculture, Livestock and Food Supply of the Federative Republic of Brazil on Quarantine and Veterinary Sanitary Conditions of Beef to Be Exported from the Federative Republic of Brazil to the People's Republic of China"(《中华人民共和国国家质量监督检验检疫总局和巴西联邦共和国农业、畜牧和食品供给部关于中国从巴西输入牛肉的检疫和兽医卫生要求议定书》), is among a series of agreements signed during Chinese Prime Minister Li Keqiang's visit to Brazil in May 2019. The protocol provides for rules governing beef exports to China.  Article 4 states that:
4. If above-mentioned diseases break out in Brazil, or FMD break out in FMD free area specified by Brazil, or other bovine-related malignant epidemic diseases concerned by the Chinese and Brazilian sides, break out in Brazil, MAPA will immediately inform AQSIQ and provide a detailed report of the situation as well as temporarily halt exports to China in accordance with accepted international practice, and recall the frozen beef which is or may be contaminated.

In case of a new BSE occurrence, MAPA shall immediately temporarily halt exports of beef to China, recall the frozen beef which is or may be contaminated, notify AQSIQ immediately and provide detailed information as soon as possible. AQSIQ shall re-evaluate the BSE risk status and consider whether to resume the import of beef from Brazil in accordance with the results of risk evaluation. MAPA will send a technical delegation to China in order to discuss the condition to resume the exports of beef.

5. In order to resume exports to the People's Republic of China, Brazil should provide AQSIQ with a detailed report containing information on the status of the disease, prevention and detection measures, and whether the disease is under control. MAPA shall therefore negotiate with AQSIQ the conditions to resume beef exports according to accepted international practice.
The Chinese agency referenced here, AQSIQ, was restructured in 2018 and part of its authority went to the General Administration of Customs. According to the Protocol, the two nations have to talk and reach a consensus before beef trade can resume. This negotiation seems to be the hold up.
According to a Brazilian official from the agriculture ministry, "Brazil was totally transparent with the Chinese health authorities. We have responded promptly to all requests for information addressed to us. In addition, we have requested a technical meeting, which has not yet been scheduled by the Chinese authorities, who claim they are analysing the information we sent."
A similar mad cow disease incident happened in 2019. At that time, one atypical mad cow disease in Brazil resulted in the suspension of beef trade, which only lasted 10 days before trade resumed. Because of this precedent, Chinese domestic beef traders estimated (link in Chinese) that it would take two weeks to resolve the current issue.
Mad cow disease has been a recurring issue for China-Brazil beef trade. In 2012 Brazil had an outbreak. As a result, China suspended beef imports from Brazil until 2015, when the two sides signed the 2015 protocol mentioned above. After that, Brazilian beef exports to China skyrocketed.
In recent years, Brazil has exported more than half of its beef products to China and Hong Kong. And from the Chinese side, Brazil has been a leading beef source for China since 2016 (see graph below). In 2020, 40% of China's beef imports came from Brazil.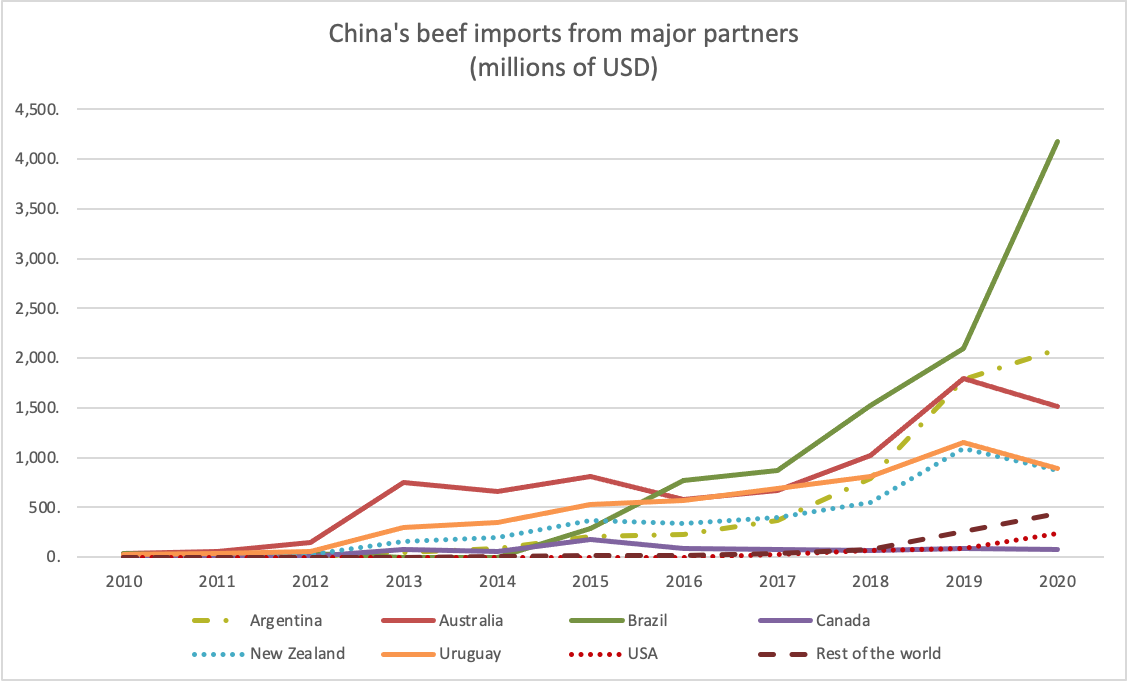 So far, Chinese officials have been quiet. During a September 9 press conference (link in Chinese) of the Ministry of Commerce, spokesperson Shu Jueting stated that "Brazil had notified the relevant information and suspended the export of beef products to China, in accordance with the bilateral agreement. In the next step, China and Brazil will continue exchanging information and work together to conduct risk assessment, technical consultation and other follow-up work."
In the past, China has tended to be cautious with imports associated with mad cow disease. For instance, China suspended beef imports from the United States in 2003 due to an outbreak there. This suspension lasted over a decade, until it was lifted by a bilateral beef deal in 2017. More recently, China suspended beef imports from Ireland last year and some beef imports from the United Kingdom last month due to the same disease.